Top 10 Financings: Dec 2019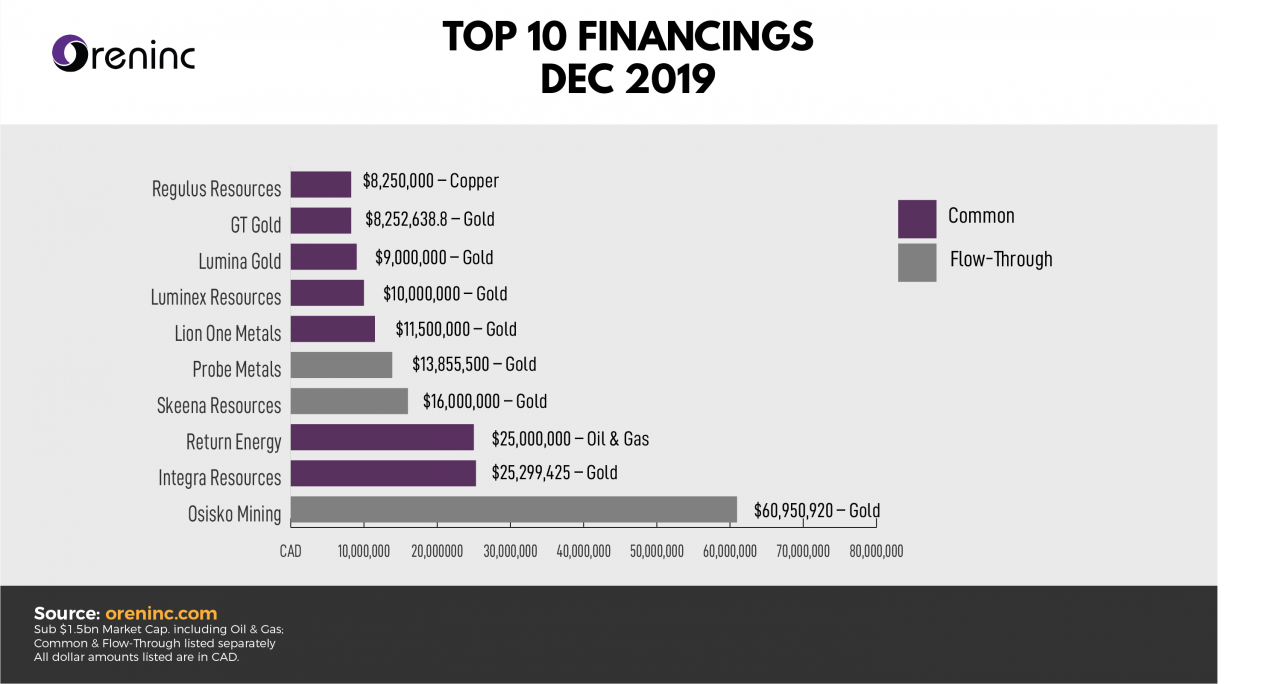 Gold accounted for seven of the top ten largest financing's closed in Canadian capital markets in December, with copper and oil and gas claiming the other spots. The top ten deals closed aggregated $188.1 million, a 19.2% increase over the $157.8 million closed in November, and representing 47.2% of the $396.9 million in deals closed, with just seven deals over $10 million.
Osisko Mining lead the gold rankings with $61 million raised in December, followed by Integra Resources at $25.3 million and Skeena Resources at $16 million. The top ten yellow metal financings aggregated $168.4 million, 218% more than the $52.9 million in November, accounting for 42.4% of the total closed with six financings of more than $10 million.
Base metals finally saw some much-needed interest as the top ten base metals financings closed raised $36.2 million, a 723% jump from the $4.4 million raised in November and representing a respectable 9.1% of the total, lead by Regulus Resources and Osisko Metals. All the top ten base metals closings raised more than $1 million.
Interest in battery metals continues to be scant with just $3.7 million raised in December, although this was 208% more than the $1.2 million raised in November, and just 0.9% of the total, with just five deals. The biggest raise was $1.7 million by Pan Global Resources.
December saw a whopping 171 deals close, which included a large number of keeping-the-lights-on deals with 57.3% of the financings closed being for less than $1 million and just 3.5% were for more than $10 million.
Positions
Positions
Popular Position